Talk by Randy Kehler at the Nipponzan Myohoji Peace Pagoda,  27th Anniversary Celebration, Leverett, Massachusetts, September 29, 2012 (PDF version)
INTRODUCTION
Greetings, friends.  It's wonderful, as always, to be here with all of you, and an honor to have been invited to share some thoughts with you.
The title of my talk ("Personal Reflections on the State of the World") was meant to be general enough to give me plenty of leeway to talk about almost anything, because, frankly, when I was asked what the title would be, I hadn't yet had much time to think about what I wanted to say.  At this point, having given it more thought, I think I would at least amend the title by adding this subtitle: "Randy's Ongoing Meditation on Fear."  I think you'll see what I mean.
FIVE CRISES
But let me start with the state of the world and a brief recap of what appear to me to be 5 of the most serious, most threatening, most daunting crises we face – crises that many of us here have devoted significant portions of our lives attempting to address – and few, if any, with more faithfulness, perseverance, and equanimity than the monks and nuns of Nipponzan Myohoji. 
First, the crisis of nuclear power.
This is from The Economist, of March 10, 2012 (one year after Fukushima):  "The triple meltdown at Fukushima was the world's worst nuclear disaster since Chernobyl in 1986.  The damage extends far beyond a lost power station, a stricken operator (the Tokyo Electric Power Company, or TEPCO), and an intense debate about the future of the nation's nuclear power plants.  It goes beyond the trillions of yen that will be needed for a decade-long effort to decommission the reactors and remove their wrecked cores, if indeed that proves possible, and the even greater sums that may be required for decontamination (which one [Tokyo University expert] thinks could cost as much as 50 trillion yen, or $623 billion).  It reaches into the lives of the displaced, and of those further afield who know they have been exposed to the fallout from the disaster….For parallels that do justice to the disaster, the Japanese find themselves reaching back to the second world war, otherwise seldom discussed….And, of course, to Hiroshima."
There are roughly  [400-?] operating operating nuclear power plants in the world today.  104 of them are in the U.S., most of them old and approaching, or already having exceeded, their 40-year design life.  Many of them, including the Vermont Yankee nuke, on the Conn. River 20 miles north of here and the Pilgrim nuke in Plymouth, 40 miles south of Boston, have been given permission by the federal Nuclear Regulatory Commission to operate for an additional 20 years, and at 120% of the power output they were designed to produce.  23 of the U.S. reactors, including both Vermont Yankee and Pilgrim, are of almost the identical make and flawed design (courtesy of General Electric) as the nukes still melting down in Fukushima.
Palestine West Bank / Bahrain / Burma / MST / Iraq
By Nicholas Sismil, Peaceworkers Intern – PeaceWorkersUS.org
Palestine, West Bank
In recent news, Palestinian actions in the West Bank have moved more towards
constructive programme in the last month or two. Palestinians and international activists
have built a total of three protest villages thus far. Two have been destroyed but the
recent village is still standing.
The first camp was constructed on Friday, January 11th. By noon, the Palestinians
announced to the world that the village of Bab-al Shams (Gateway to the Sun) had been
established. A day later, there were approximately 250 residents, a village council, a
health clinic, a media center, a communal kitchen, and the beginnings of a library. The
majority of the residents were students, activists, and popular committee leaders.
However, residents of various locations in Palestine and even those from 1948 were
living there as well.
Click here to read the entire report in pdf format.  which will take you to:
http://www.peaceworkers.us/peaceworkers-report-january-2013.pdf
by 
Ken Butigan
 | January 10, 2013
On Monday President Obama nominated his counterterrorism chief, John O. Brennan, to head the Central Intelligence Agency. Though some civil liberties groups and other critics have raised questions about Brennan's involvement in the CIA's practice of torture during the Bush administration, relatively less has been said about his primarily responsibility during President Obama's first term: accelerating and institutionalizing the U.S. drones program and its  "disposition matrix"  — as the government's sanitizing parlance puts it — which has included setting weekly drone kill lists.
Click here to read more.
David Hartsough has been a peace activist since the 1950s, a conscientious objector, a civil disobedient, arrested over 100 times.  In 2002 he cofounded the Nonviolent Peace Force ( nonviolentpeaceforce.org ).  Hartsough is the executive director of Peace Workers ( peaceworkersus.org ).  He discusses the current status of war and peace in our culture.
Total run time: 29:00
Host: David Swanson.
Producer: David Swanson.
Engineer: Christiane Brown.
Music by Duke Ellington.
Download or get embed code from  Archive  or   AudioPort  or  LetsTryDemocracy .
Syndicated by Pacifica Network.
December 12th, 2012
By International Solidarity Activists
Gaza- Israeli forces fired live ammunition and tear gas at unarmed farmers and international solidarity activists working in Khuza'a, a small village outside of Khan Younis located near the Israeli border. At 10:30 AM, the farmers arrived and began to plough approximately 100 meters from the separation fence while internationals lined up in between the border and the farmers. They were quickly met by an Israeli military jeep and transport vehicle. An Israeli soldier issued a warning in Arabic to leave the area and then fired two rounds into the air. The farmers and internationals remained calm and continued their work and the Israeli soldiers left the area.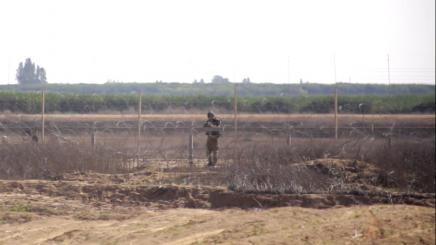 Israeli soldier aiming
At around 11 AM, approximately 20 Palestinians and farmers gathered around 300 meters back from the fence. Two military jeeps returned to the area. One soldier exited his vehicle and fired four shots in the direction of the farmers and activists. The fourth shot crossed the line of the activists and landed in the field being ploughed. Again, the Palestinians and internationals were not deterred. The Israeli jeeps left and the farmers finished working on this section of land and moved on to an adjacent plot.  Read more
Dalu home in Gaza obliterated 
On November 18, 2012, the Dalu family, huddled at home, waited for the war that surrounded them to end. Like everyone else in Gaza, they had nowhere to run. At 2:30PM, without warning, an Israeli missile flattened the entire building, killing all ten occupants and two from the building adjacent. Not only was the building destroyed, but the bomb carved out a deep crater where the home had been. It took four days of searching through the rubble for rescuers to find the bodies of the ten family members and two neighbors.
Palestinian citizens are all theoretically eligible for a Palestinian passport. However, Israel determines whether the applicant will receive the passport. Because of this, thousands of civilians have been denied the right to exit the prison most of them were born into and will likely die in, the prison of Gaza. The Dalu family did not have the option to flee to Israel or Egypt for safety as the borders were only open intermittently during this most recent conflict, and passage was restricted to medical emergencies and humanitarian supplies.
from the
Positive Peace Warrior Network (PPWN) web site
, November 2012
David Hartsough is a lifelong nonviolent activist, having participated in the lunch-counter sit-ins during the Civil Rights Movement, and is STILL a committed activist, participating in demonstrations and risking arrest in the name of peace and justice. He has also been a major supporter of our work at PPWN. PPWN honors all of our elders, but gives special appreciation to elders like David, who not only celebrates the work he did decades ago, but is still engaged in the struggle today. We have much to learn from the commitment of people like him.
On October 30th of this year, David was arrested again (he has over 125 arrests on his rap sheet!), this time protesting the use of Drones by the US Military at Beale Air Force Base. He is now facing federal charges. Continue reading →
Mirrored from www.mettacenter.org — July, 2012
I want to make an offer to my fellow Americans who are, like myself, reeling from the worst "random" shooting the country has ever seen. My question: Have you had enough? Because if you have, I can tell you how to stop this kind of madness. I know that's a bold claim, but this is not a time for small measures.
We cannot fix this tomorrow, because we didn't cause it yesterday. We have been building up to this domestic holocaust since – to take one milestone – television was made available to the general public at the conclusion of World War Two.
If you are still with me, you are prepared to believe that it was not a coincidence that this massacre took place at the scene of an extremely violent, "long-awaited" movie. Psychologists have proved over and over again that – guess what – exposure to violent imagery produces disturbances in the mind that must, in course of time, take form in outward behavior. The imagery can be in anymedium, nor does it matter whether on the surface of our minds we think what we're seeing is real or made up. This is a natural, scientific law. Exactly who will crack next and in what setting is nearly impossible to predict, and in any case it's ridiculous to try to run around stopping the resulting violence from being acted out after the mental damage has been done. The only sane approach is not to do it in the first place.
As Lt. Col. Dave Grossman pointed out in his book, Let's Stop Killing Our Kids, the video games that the Army uses to prepare ordinary men and women for combat, in other words to wipe out the normal empathy and inhibitions against hurting others that we've built up over millennia – a process known as civilization – are the very same games our young people buy across the counter throughout the country.
Of course, there are other factors. At some point we will have to talk about readily available weapons; at some point we'll have to realize that a nation that engages in heartless drone warfare, torture, and extrajudicial killings cannot expect to live in peace. But until we liberate our minds from the endless pounding of violent imagery I fear we won't be able to think clearly about those factors (or for that matter anything else).
With rare exceptions, film and video game producers will not stop turning out these dehumanizing products as long as there is profit to be made from them – and not enough sophistication about culture or the human mind to warn us about their dangers. But there is a way, one that has worked well on the small scales on which it has so far been tried: don't watch them. Captain Boycott had the right approach.
Right now police have been posted at theaters where this same movie is being shown – still. But ask yourself, what are they protecting? Is it perhaps the belief that violence is just entertaining? People, tell me when you've had enough.
---
If you are moved by this article, please pass it along. If you are a member of the press and would like to interview the Metta Center for our perspective on this tragedy, you can contact us at 707.774.6299 or by email: info@mettacenter.org.
---
December 15, 2011, 9:41 am  –  Mirrored from wagingnonviolence.org 
"Building a Rainbow" is the title of an old poster I picked up somewhere along the way. The rainbow's swath of red, orange, yellow, green, blue, indigo, and violet layers is dazzling—and only half finished. In the picture, this symbol of peace is not an idealistic dream but something real. It is under construction, with a troupe of cranes carefully maneuvering sections into place, countless trucks and overworked paint wagons, scaffolding everywhere, and a flotilla of helicopters lumbering across the sky, each with its own precarious splotch of color dangling below.
We live in a violent world. But we also live in a world where a growing number of people everywhere are determined to confound the assumption that there is nothing we can do about this. They gamble that violence need not have the final word. They wager that there are options. They assert that we needn't be victims of a cycle of violent history; rather, we can dare to be active subjects of a more nonviolent history that engages and transforms the violence around us. For them, violent history isn't a given, it is made. So, too, is a nonviolent one.